Stunnel Handleiding
Wat is Stunnel en waar heb ik het voor nodig?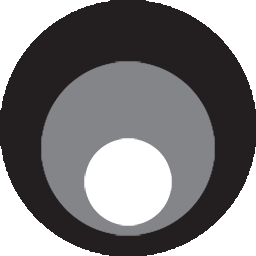 Stunnel is een open source programma wat gebruikt word om een universele TLS / SSL tunnelservice aan te bieden. Simpel gezegd komt het er op neer dat als je bijvoorbeeld een ouder programma hebt welke SSL niet ondersteunt je het betreffende programma een normale verbinding laat maken met Stunnel en Stunnel maakt vervolgens een beveiligde gecodeerde verbinding met bijvoorbeeld je nieuwsserver.

Stunnel gebruikt de OpenSSL- bibliotheek voor cryptografie, dus het ondersteunt alle crypto grafische algoritmen die in de bibliotheek zijn gecompileerd.
Wij gaan Stunnel gebruiken om te zorgen dat Camelsystem PowerPost toch gewoon via SSL met onze nieuwsserver kan verbinden.
Stunnel v5.56 downloaden
Stunnel installeren en configureren
Na het downloaden dubbelklik je even op het binnen gehaalde stunnel-5.56-win64-installer.exe om de installatie van Stunnel te starten.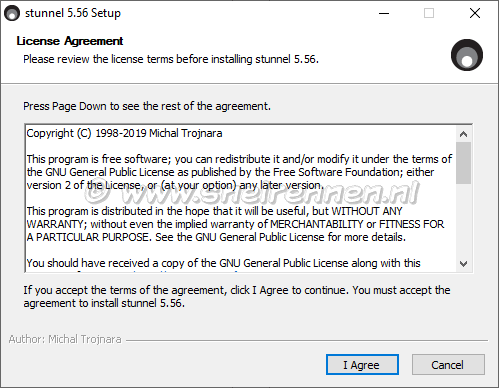 De installatie van Stunnel is niet meer dan een paar muisklikken en slaan we hier verder over. Dit zal voor niemand een probleem opleveren.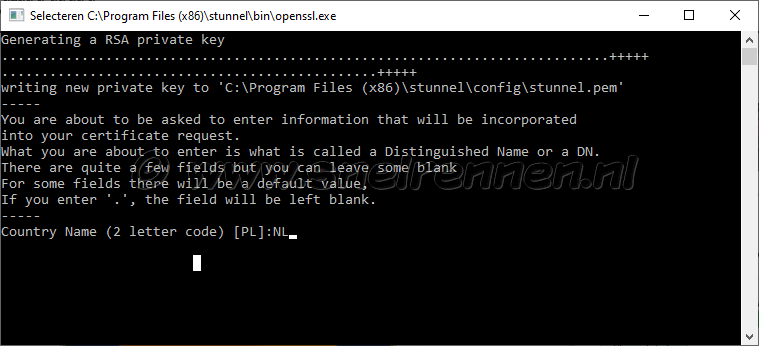 Tot de installer ineens bovenstaand scherm laat zien. Het gaat een nieuwe private key genereren. Je krijgt hier de vraag of je jouw land naam, provincie e.d. op wilt geven en wat organisatie gegevens. Aan jou de keus wat je wel of niet in vult, alles is goed en leeg laten is ook een optie. Elke stap even bevestigen met de enter toets.

Als je Stunnel dan opstart met de nieuwe snelkoppeling op je bureaublad krijg je bovenstaand venster te zien.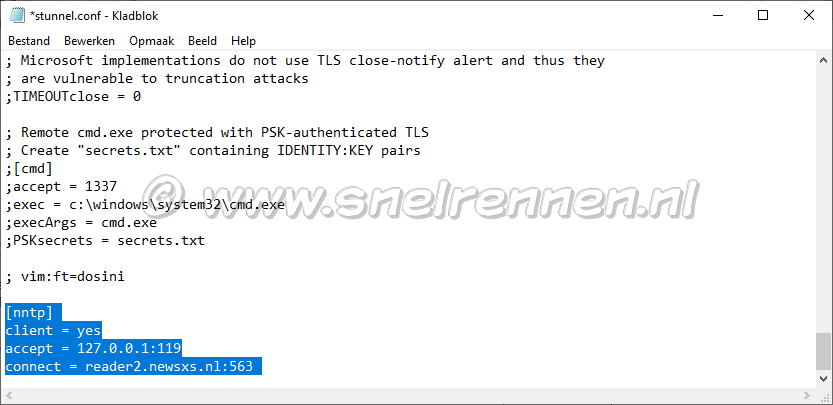 Het configuratie bestand van Stunnel zal dan openen in het kladblok of een andere editor als je die geïnstalleerd hebt. Je gebruikt Stunnel waarschijnlijk alleen om Camelsystem PowerPost via SSL te laten verbinden dus we maken ons even niet druk of we de aanpassing wel volgens de regels op de juiste plaats in het bestand zetten. Scrol omlaag en plak onderstaande aanpassing in het config bestand waarbij je wel reader2.newsxs.nl aan je eigen nieuwsserver moet aanpassen.
[nntp]
client = yes
accept = 127.0.0.1:119
connect = reader2.newsxs.nl:563
Dan wel even het configuratie bestand opslaan, niet onbelangrijk!

Terug in Stunnel gaan we via het menu naar "Reload Configaration" om te zien of de wijzigingen die we hebben gedaan ook geaccepteerd worden door Stunnel.

En dan zien we dat het configuratie bestand in ieder geval zonder problemen geladen is en dat onze nieuwsserver, nntp zoals wij het genoemd hebben wel aanmelding vereist is. En die gegevens staan weer in Camelsystem PowerPost dus missie geslaagd!
Je kunt nu weer verder met de Camelsystem PowerPost handleiding met het voorbereiden van een nieuwe post!
Comments
No comments yet. Be the first!
Er zijn 20 bezoekers online