Handleiding CouchPotato op Synology NAS
CouchPotato configureren deel 1, basis en zoek instellingen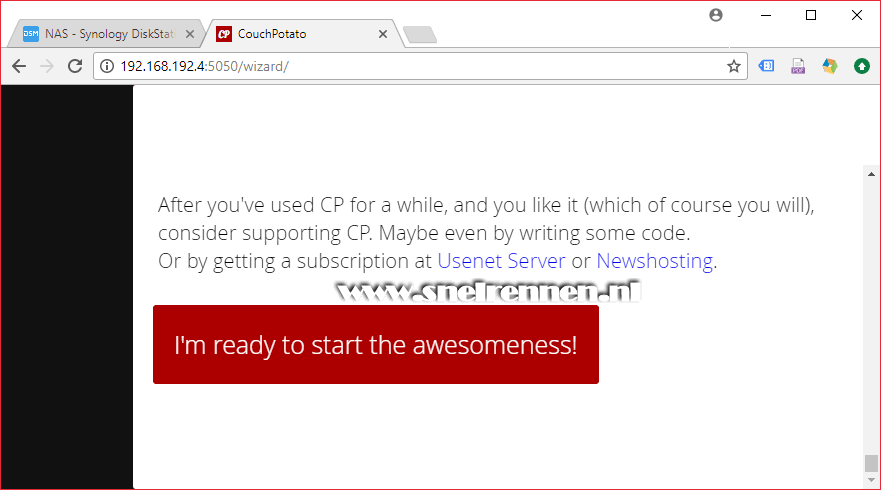 Als CouchPotato dan voor de eerste maal is opgestart zal de configuratie wizard starten. We maken daar geen gebruik van en klikken deze weg door in het venster omlaag te scrollen en op de grote rode knop "I'm ready to start the awesomeness!" te klikken.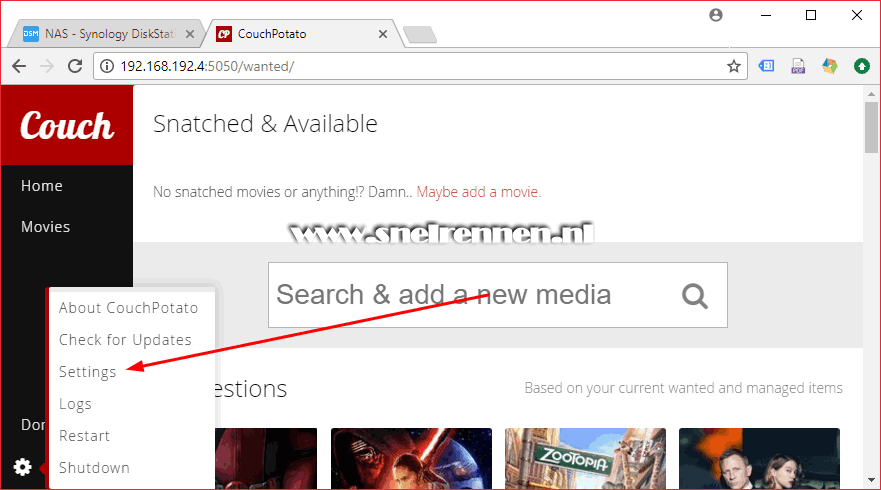 Als je de configuratie wizard hebt afgesloten kom je in het hoofdscherm van CouchPotato, dan een klik op het tandwiel symbooltje aan de linker kant onder in het scherm en kies vervolgens voor settings.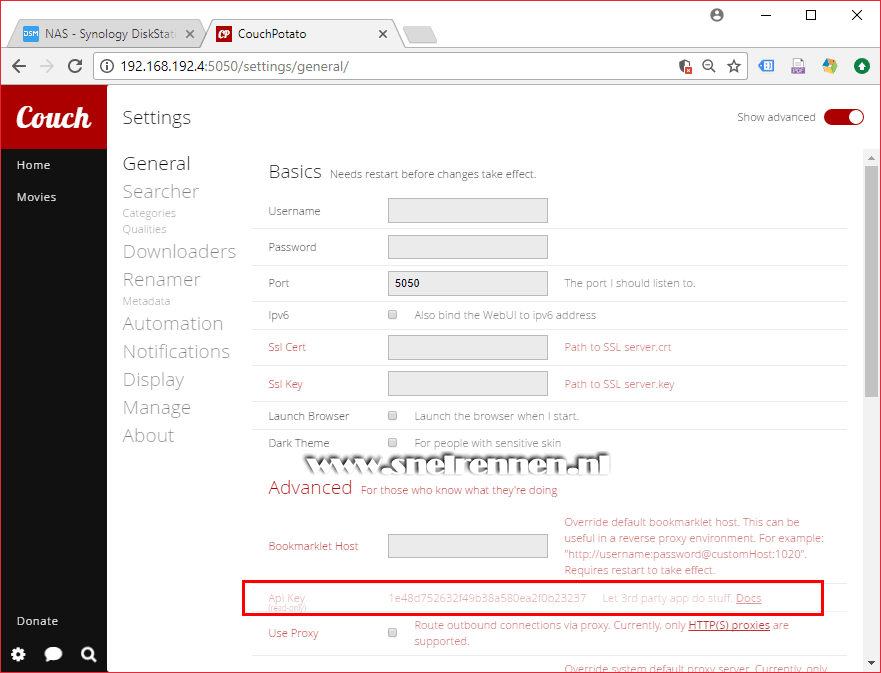 Op het tabblad general komen we eerst een aantal basic settings tegen. Als je dat zou willen kun je CouchPotato afschermen met een wachtwoord. Vul daarvoor achter username een gebruikersnaam in en achter password jouw zelf gekozen wachtwoord. Dan port, onthoud dit poort nummer, deze hebben we later weer nodig in de NZBGet handleiding. De Api key hebben we later ook nodig voor NZBGet en als je NZBGet al geïnstalleerd hebt kopieer je deze direct hierin!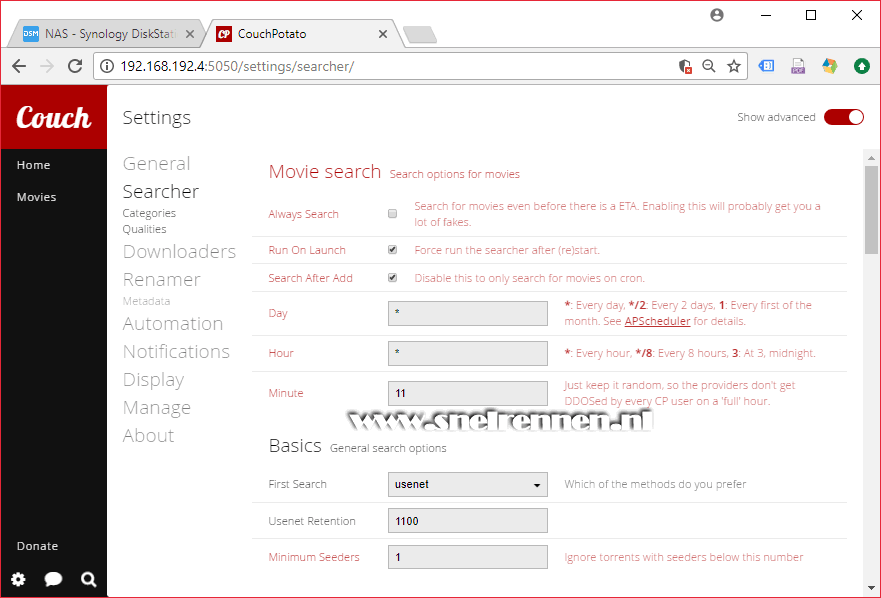 Dan het blad searcher. Een vinkje achter run on launch zorgt voor een zoekopdracht na het opstarten van CouchPotato en bij search after add na het toevoegen van een nieuwe film. Een * bij day zorgt ervoor dat er elke dag gezocht wordt en ook een * bij hour zorgt ervoor dat er dagelijks ieder uur gezocht gaat worden. Achter first search kiezen voor usenet, torrent bestanden vallen buiten deze handleiding en behandelen we hier dan ook niet. Vervolgens geef je jouw usenet retentie op.
Scrol dan omlaag op deze pagina.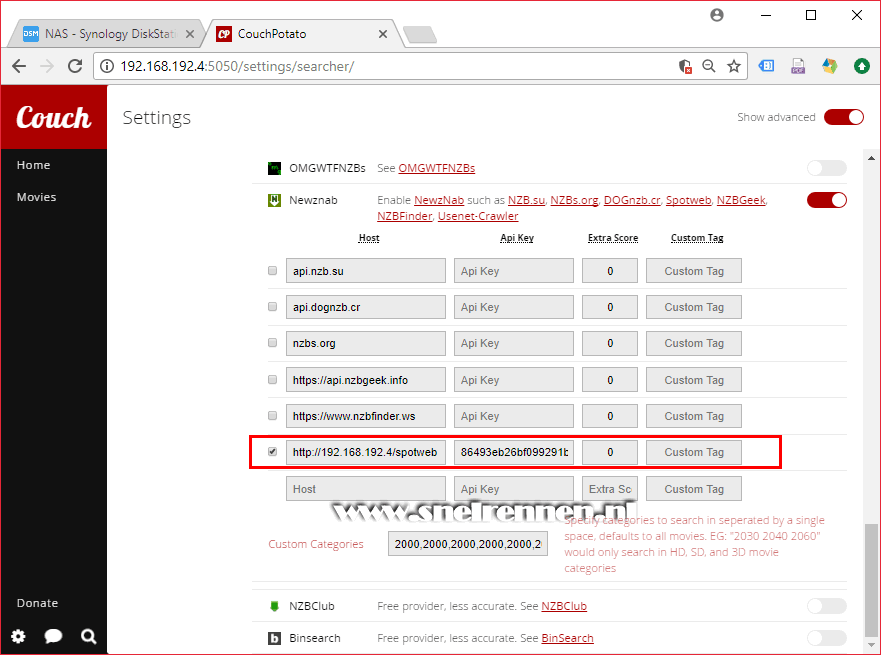 Zet NewzNab aan met het schuifje erachter en vul de Spotweb gegevens in. Heb je NZBMegaSearch niet geïnstalleerd en ben je dat ook niet van plan vul dan je jouw eventuele andere NewzNab providers ook op deze manier in.. Zorgt dat deze aangevinkt zijn. Tenslotte kun je de gratis Binsearch ook toevoegen door deze aan te vinken.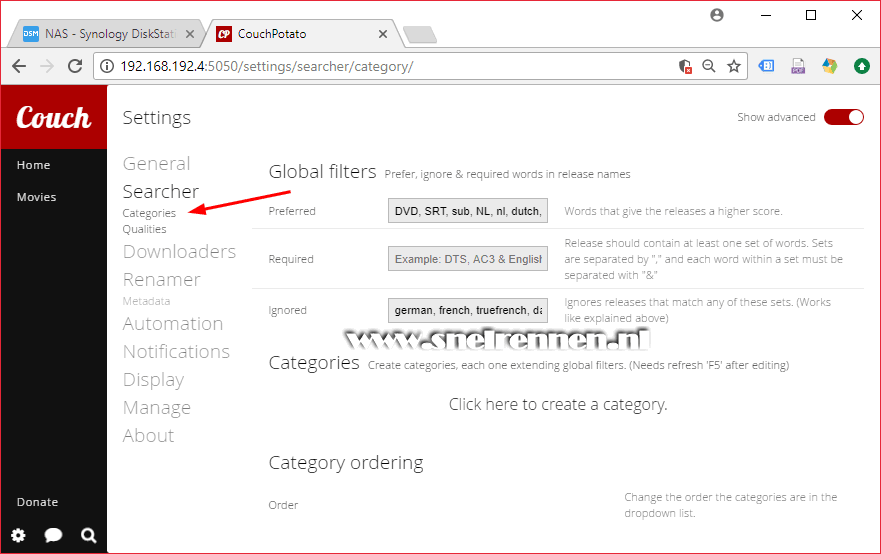 Dan naar het tabblad categories.
| | |
| --- | --- |
| Preferred | Als CouchPotato meerdere versies van een film vindt dan krijgt degene met deze woorden de voorkeur. Wij hebben staan: DVD, SRT, sub, NL, nl, dutch, x264, 720, 1080, 2160 |
| Required | Welke woord(en) moeten er wel voorkomen om door CouchPotato gedownload te worden? Leeg laten geeft de beste zoekresultaten. |
| Ignore | Welke woord(en) mogen niet voorkomen in een post? Zorg dat hier geen woorden staan die je wel wilt hebben. Bij ons: german, french, truefrench, danish, swedish, spanish, italian, korean, dubbed, swesub, korsub, dksubs, vain |
Je kunt hier zelf met de click here to create a category knop zelf ook (meerdere) categorieën aanmaken als je dat wilt. Onze tip, zorg eerst dat alles lekker draait en ga dan eens een beetje experimenteren.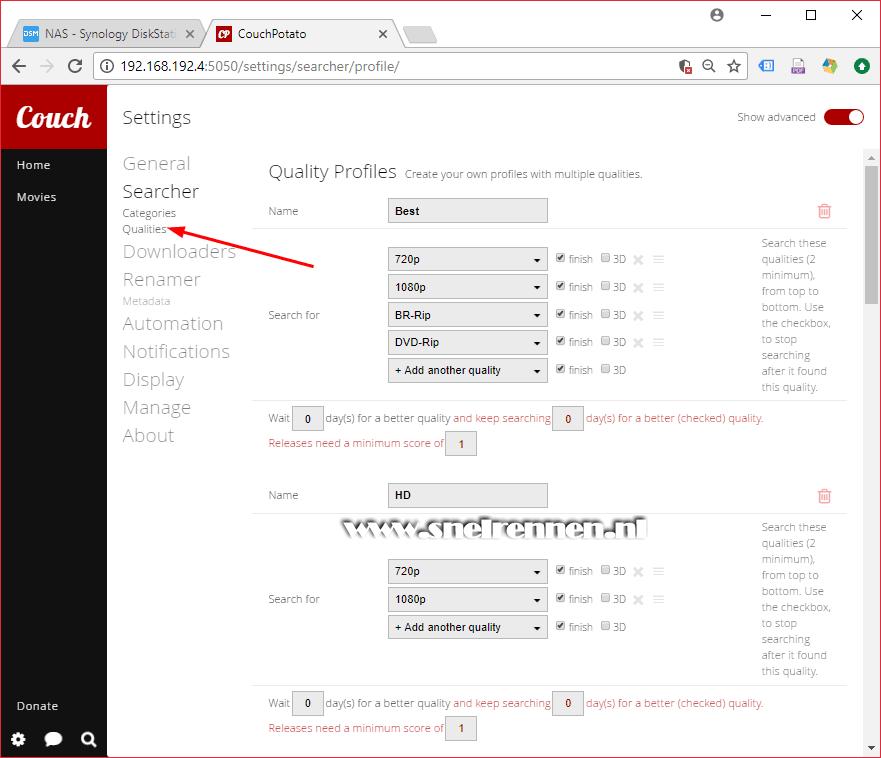 Op het blad qualities staan de zogenaamde "kwaliteits profielen", je kunt voor elk profiel een eigen naam maken en aangeven welke beeld kwaliteit tot dat profiel behoort. CouchPotato gaat eerst zoeken naar de bovenste kwaliteit in de lijst. Indien die niet gevonden wordt probeert hij de kwaliteit daaronder, enzovoort. Met de knop create another quality profile kun je zelf profielen aanmaken als je daar behoeft aan hebt. Bedenk wel dat als je bijvoorbeeld alleen voor de hoogste kwaliteit gaat je dat wel zal merken in het aantal zoekresultaten.
Scrol dan omlaag op deze pagina.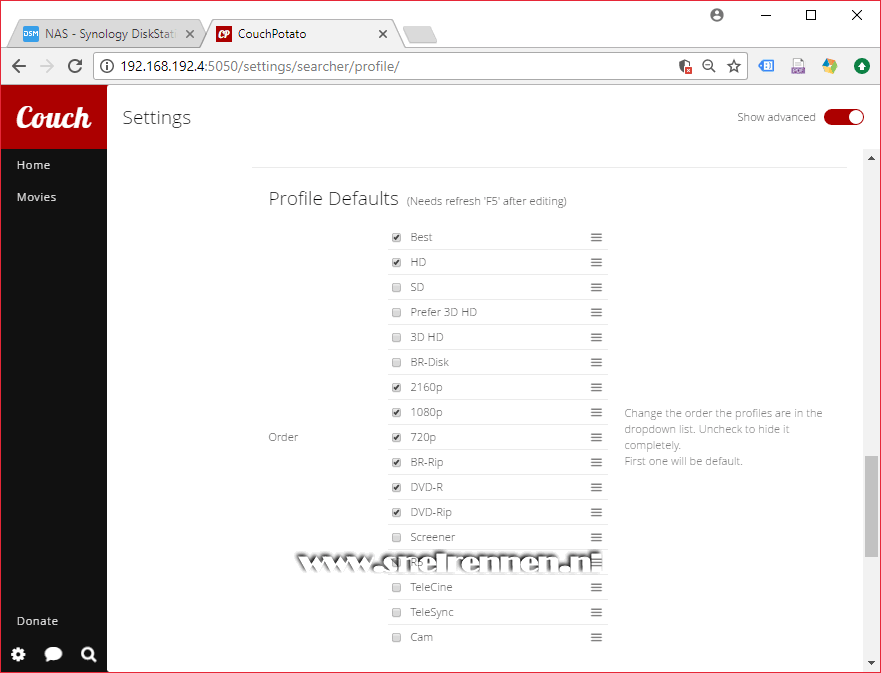 Vink hier de gemaakte profielen aan, als je nu later een zoekopdracht ingeeft en je kiest dan voor het profiel HD zal je alleen resultaten krijgen van het 720p of 1080p formaat.
Op de volgende pagina gaan we verder met het configureren, dan komen de download programma's en het renamen aan de orde.
Comments
No comments yet. Be the first!
Menu CouchPotato
Er zijn 19 bezoekers online