MultiPar versie 1.3.0.6 Handleiding
Wat is MultiPar en wat kun je ermee?
MultiPar is een gratis open source programma om bestanden te beschermen volgens de meer algemene principes van het Parchive systeem, ook bekend als Parity Volume Set Specification. Dit systeem werd oorspronkelijk bedacht om bestanden te delen over een minder betrouwbaar kanaal, maar kan momenteel worden toegepast in alle gevallen waar het belangrijk is om een bestand te beschermen tegen verschillende vormen van data corruptie of Bitrot.
Het programma laat toe om één of meerdere bestanden te selecteren, en op basis daarvan een aantal zogenaamde herstel bestanden aan te maken (extensies parX en/of pXX waarbij de X staan voor cijfers). In de herstel bestanden zal er zich data bevinden, gegenereerd door een geavanceerd algoritme, op basis waarvan eventuele fouten in het bronbestand, of in de rest van de herstel bestanden, kunnen worden gedetecteerd en verbeterd.
Via de gebruikersinterface of via het context menu van de Windows verkenner kan men d.m.v. verschillende parameters bepalen hoe sterk het corrigerende vermogen van de herstel bestanden zal zijn. Hierbij is het natuurlijk zo, dat hoe groter dit vermogen moet zijn, hoe groter de totale omvang zal zijn van de herstel bestanden Een beschermingsfactor van 10% kan echter al voldoende zijn, om de levensduur van een bestand aanzienlijk te verhogen. En hiermee kun je zo nodig dat reconstrueren

MultiPar versie 1.3.0.6

downloaden en installeren

Download de voor jouw besturingssysteem geschikte versie van MultiPar uit ons forum:


Als het downloaden gereed is dubbelklik je op het zojuist gedownloade MultiPar1306_setup.exe bestand als je de installatie versie hebt gedownload. De Portable versie kun je gewoon in een map uitpakken en starten. Hieronder lopen we door de installatie heen.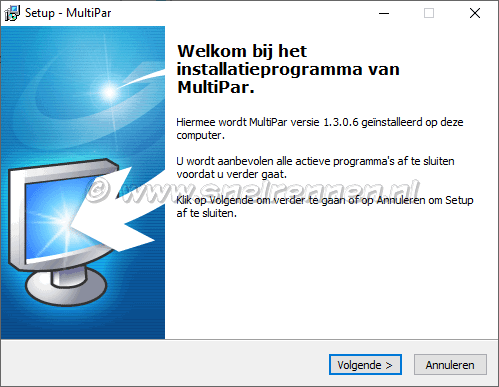 Al eerste de bekende mededeling dat we programma x gaan installeren op onze computer. Natuurlijk willen we dat anders waren we er niet aan begonnen. Door met de "Volgende" knop.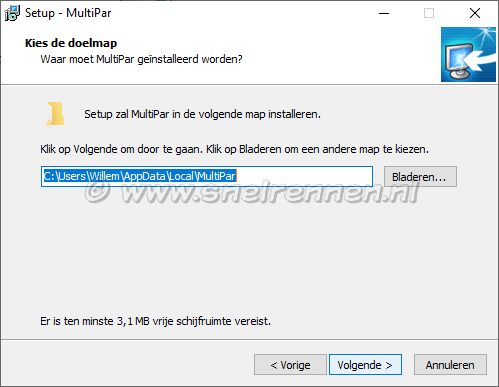 MultiPar vraagt waar het programma geïnstalleerd moet worden. Standaard wordt het in C:\Users\Jouw naam|\AppData\Local\MultiPar\ geïnstalleerd. Wil jij MultiPar op een andere schijf of in een ander map geïnstalleerd hebben pas je dat hier aan. Als je de voor jouw juiste locatie hebt ingegeven druk je weer op de "Volgende" knop.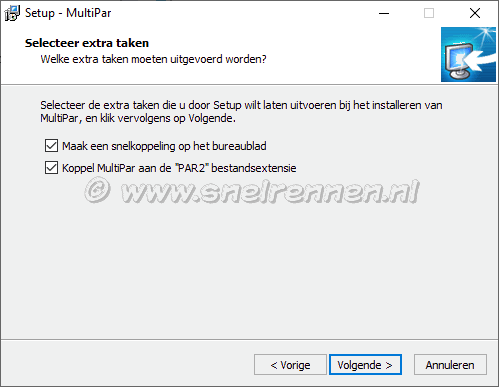 Die snelkoppeling op je bureaublad is natuurlijk een persoonlijk keuze, als je dat wilt vink je het aan. En natuurlijk willen we dat MultiPar is gekoppeld aan de PAR2 bestands extensie. Simpel gezegd betekent het dat als je op een PAR2 bestand dubbelklikt MultiPar wordt geopend. Keuze gemaakt? Verder met de "Volgende" knop.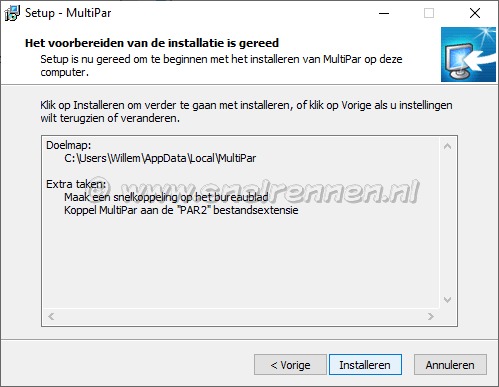 De paar instellingen die je kon maken bij de "Installer" versie zijn gedaan. Nu nog even op de Installeren knop drukken en SABnzbd word geïnstalleerd.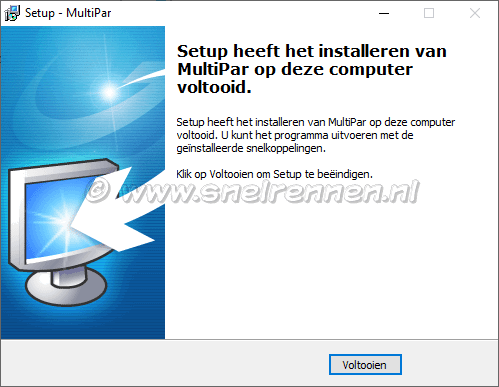 Klik op voltooien om de installatie wizard af te sluiten. MultiPar is nu geïnstalleerd op je computer. Start het programma met de nieuwe snelkoppeling op je bureaublad of door op een PAR2 bestand te dubbelklikken. Op de volgende pagina van deze handleiding gaan we MultiPar eerst configureren.
Comments
No comments yet. Be the first!
Menu MultiPar
Er zijn 21 bezoekers online