Handleiding AutoRarPar
AutoRarPar downloaden en installeren
AutoRarPar is een gratis programma voor Windows om binaire bestanden te uploaden naar de nieuwsgroepen op het usenet. Het is een ideaal programma voor mensen die nieuw zijn met het posten van bestanden op Usenet omdat je met AutoRarPar zowel rar als par bestanden aanmaakt en ze upload. Natuurlijk is het ook handig voor ervaren uploaders die geen behoefte hebben alle functies en extra instellingen die bijvoorbeeld yEnc PowerPost heeft. Normaal gesproken start je eerst WinRar op om bestanden/mappen te rarren. Als dit klaar is start je QuickPar op om Par2 herstelbestanden te maken. Dit kan afhankelijk van de grootte van de bestanden lang duren. En als laatste start je een programma om de bestanden naar Usenet te posten.
AutoRarPar maakt het een stuk gemakkelijker omdat je de rar/par/post instellingen in één keer kunt invoeren en je er daarna niet meer druk over hoeft te maken. Je hoeft alleen maar de bestanden/mappen te selecteren die je wilt rarren, parren en posten, daarna de benodigde opties in te voeren en uiteindelijk op de "Start" knop te drukken en AutoRarPar doet de rest voor je.
De functies van AutoRarPar:
RAR bestanden maken. Het pakt de bestanden die je wilt gaan posten in.
PAR bestanden maken. Het maakt reparatie bestanden.
Uploaden van de bestanden.
Indien gewenst automatische uitschakeling van de computer na het uploaden.
Download AutoRarPar en dubbelklik op AutoRarPar_Setup.exe om de installatie te starten.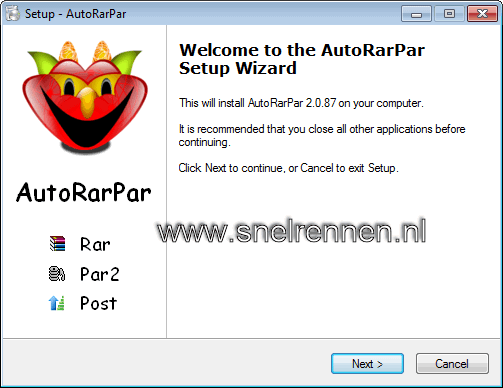 Het installeren van AutoRarPar is niet meer dan een paar keer op de next knop drukken. Standaard wordt het in C:\Users\Public\jouw naam\AutoRarPar geïnstalleerd. Als jij het programma ergens ander of op een andere schijf wilt hebben moet je dat in het juiste venster even aanpassen.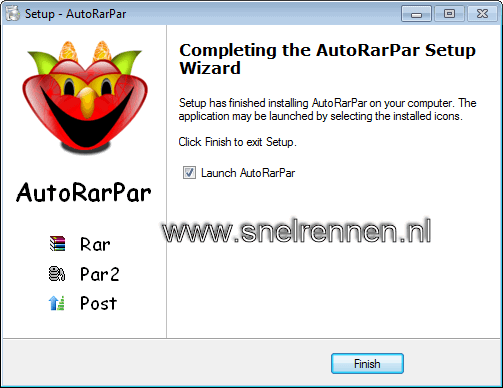 En dan is de installatie alweer gereed en als je nu op de finish knop drukt zal AutoRarPar voor de eerste keer opstarten.
Op de volgende pagina zullen we onze nieuwsserver toevoegen en de overige instellingen doen.
Comments
No comments yet. Be the first!
Menu AutoRarPar
Er zijn 23 bezoekers online