qBittorrent handleiding
Wat is en wat kan ik met qBittorrent
qBittorrent is een open source en adware vrije bittorrent cliënt die puur doet wat er van hem verwacht mag worden, gewoon torrents downloaden en verder niets. qBittorrent heet een μTorrent-achtige gebruikersinterface met een goed geïntegreerde en uitbreidbare zoekmachine in zich. Met deze torrent zoekmachine kun je gelijktijdig zoeken op veel Torrent zoeksites en categorie gerelateerde zoekopdrachten geven (bijvoorbeeld Boeken, muziek, software)
Veel Bittorrent extensies worden ondersteund en sequentieel downloaden (downloaden in volgorde) is standaard aanwezig. Verder heb je de beschikking over een bandbreedte scheduler, een torrent creatie tool, UPnP / NAT-PMP port forwarding ondersteuning. Beschikbaar op alle platforms: Windows, Linux, Mac OS X, FreeBSD, OS / 2 en is beschikbaar in 70 talen!
qBittorrent downloaden en installeren
Download hieronder de voor jouw geschikte versie van qBittorrent.

Na het downloaden, in het geval van een Windows installatie pak je het .zip bestand uit met bijvoorbeeld WinRar en dubbelklik je op qbittorrent_4.0.4_setup.exe om de installatie van qBittorrent te starten.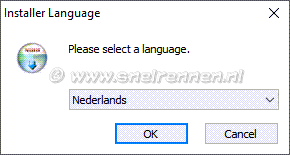 Als eerste kies je een taal voor de installer, en omdat het kan kiezen wij dus gewoon voor de Nederlandse taal. Bevestihen met de "Ok" knop.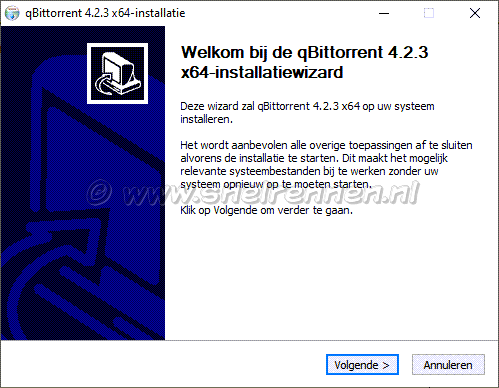 Dan verschijnt meteen de qBittorrent installatie wizard met de bekende aanbevelingen en dergelijke, we gaan snel door met de "Volgende" knop.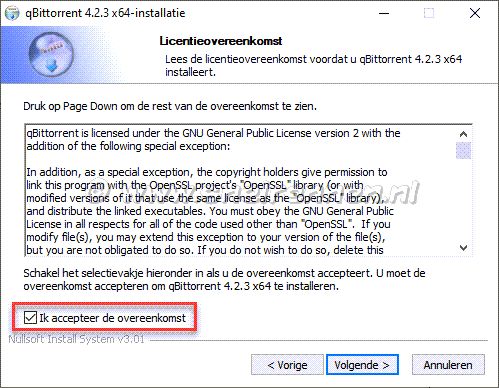 Dan de licentieovereenkomst die niemand wil lezen, je moet even een vinkje bij "Ik accepteer de overeenkomst" om door te kunne gaan en dan verschijnt weer de "volgende" knop om door te kunnen gaan.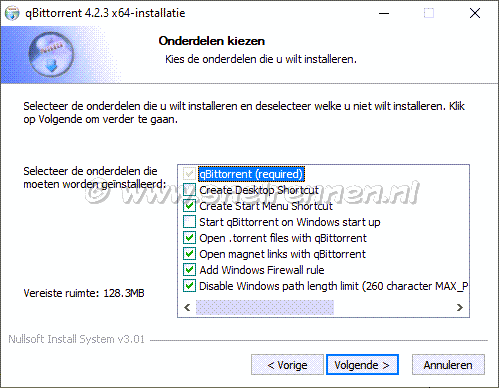 Hier geven we op welke onderdelen er geïnstalleerd moeten worden en of er snelkoppelingen gemaakt moeten worden. Ook associeer je qBittorrent direct met torrent bestanden en magnet links en word er een regel aan de Windows firewall toegevoegd, Wij willen geen snelkoppeling op het bureaublad. Torrents zijn toch geassocieerd met qBittorrent dus het programma start vanzelf op als we een torrent bestand downloaden! Wil jij dit wel dan vink je deze optie ook aan en dan gaan we weer door met de "Volgende" knop.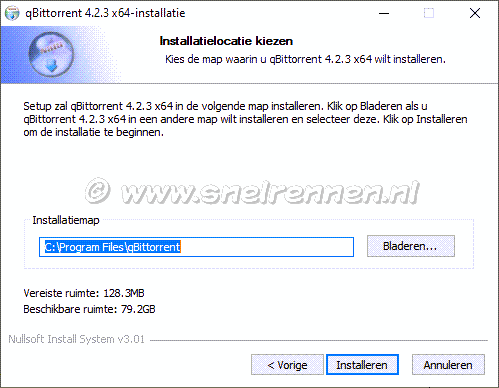 Standaard wordt qBittorrent in C:\Program Files geïnstalleerd en dat laten we zo staan. Als jij het op een andere schijf op andere locatie wilt installaren kun je dat hier dus aanpassen. Als alles naar wens is opgegeven druk je op de "Installeren" knop om de installatie te starten.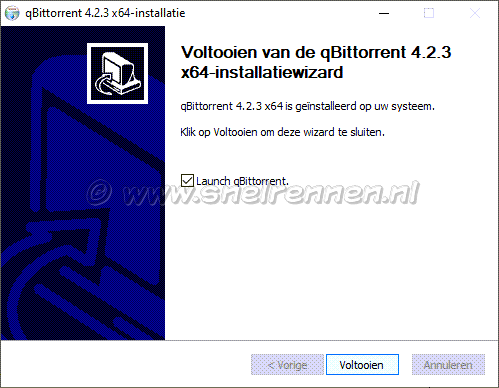 En dan is qBittorrent alweer geïnstalleerd. Als je het vinkje laat staan bij launch qBittorrent word het programma direct gestart nadat je op de voltooien knop hebt gedrukt. De volgende stap is het configureren van qBittorrent.
Comments
No comments yet. Be the first!
Menu qBittorrent
Er zijn 29 bezoekers online