Spotnet 2.0 Handleiding
Spotnet 2.0 downloaden en installeren
Welkom bij de  nieuwe Spotnet 2.0 handleiding. Spotnet 2.0 is net als SpotLite, Spotweb of Newzbin een van de tools waarmee mensen elkaar kunnen laten weten wat ze in de nieuwsgroepen op Usenet gevonden (gespot) hebben
Spotnet 2.0 is niet de opvolger van het populaire en bekende Spotnet wat sinds 2011 vele gebruikers kent. En omdat de originele Spotnet al tijdenlang niet meer van een update is voorzien hebben anderen besloten om een nieuwe versie te ontwikkelen. Spotnet 2.0 is dus een compleet nieuw programma wat qua techniek verdomd veel lijkt op het originele Spotnet programma. Beide programma's zitten elkaar ook niet in weg, je kunt ze gewoon naast elkaar gebruiken.
Verschil met de "oude" versie van Spotnet is dat Spotnet 2.0 gebruik maakt van de "The most efficient usenet downloader" NZBGet welke tijdens de installatie van Spotnet 2.0  gewoon wordt mee geïnstalleerd. Hierdoor kun je ook met Spotnet 2.0 naast het zoeken en "Spots" bekijken deze ook direct downloaden met Spotnet 2.0.
De pluspunten van Spotnet 2.0 zijn:
Spot info wordt uit de nieuwsgroepen gehaald, is dus niet offline te halen Daardoor is de grootste download database ontstaan.
Spotnet 2.0 is volledig Nederlandstalig en heeft een eenvoudige gebruikers interface
Mogelijkheid om "Spots" toe te voegen
Je downloads worden automatisch gerepareerd (indien nodig) en uitpakt
De minpunten van Spotnet 2.0 zijn:
Alleen een Windows versie te verkrijgen. Linux en Mac gebruikers kunnen SpotLite gebruiken
Payserver nodig (informatie)
Je kunt de laatste versie van Spotnet 2.0 downloaden uit ons download gedeelte in het forum! Na het downloaden even dubbelklikken op Spotnet.last.setup.release.exe om de installatie van Spotnet 2.0 te starten. Op het moment van schrijven gebruiken we versie 2.0.0.261.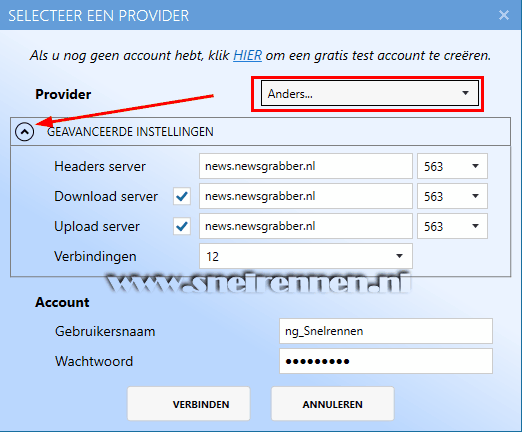 Als Spotnet 2.0 dan geïnstalleerd is kun je bovenstaand venster te zien krijgen. En als je al een vorige versie van Spotnet in gebruik hebt kan het zo zijn dat Spotnet 2.0 de server gegevens al uit het "oude" configuratiebestand heeft gehaald. Wij gaan er van uit dat je deze gegevens nu moet invullen. Selecteer je provider in het selectie veld en als de jouwe er niet bij staat selecteer je anders. Klik vervolgens op geavanceerde instellingen.
| | |
| --- | --- |
| Header server | Het "webadres" van je nieuwsserver voor de headers |
| Download server | Het "webadres" van je nieuwsserver die voor het downloaden gebruikt word |
| Upload server | Het "webadres" van je nieuwsserver voor het uploaden |
| Verbindingen | Het aantal verbindingen die je met je payserver mag maken. |
| Gebruikersnaam | De gebruikersnaam voor jouw payserver account |
| Wachtwoord | Het bijbehorende wachtwoord van je account |
Als alles naar wens is ingevoerd druk je op de "Verbinden" knop, Spotnet 2.0 zal als je gegevens kloppen de spots gaan ophalen en de database gaan vullen. Terwijl we dat op de achtergrond laten gebeuren gaan wij op de volgende pagina van deze handleiding verder met het configureren van Spotnet 2.0.
Comments
No comments yet. Be the first!
Menu Spotnet 2.0
Er zijn 44 bezoekers online