SABnzbd 3.0.0 Handleiding
SABnzbd configureren, tabbladen Meldingen & Taken
We gaan verder met de tabbladen "Meldingen en Taken". Hier kunnen we aangeven of we een email of ander bericht willen krijgen bij een afgeronde download, mislukte download en meer. Op het tabblad taken kunnen we aangeven hoe vaak en wanneer we bijvoorbeeld mislukte downloads automatisch laten verwijderen.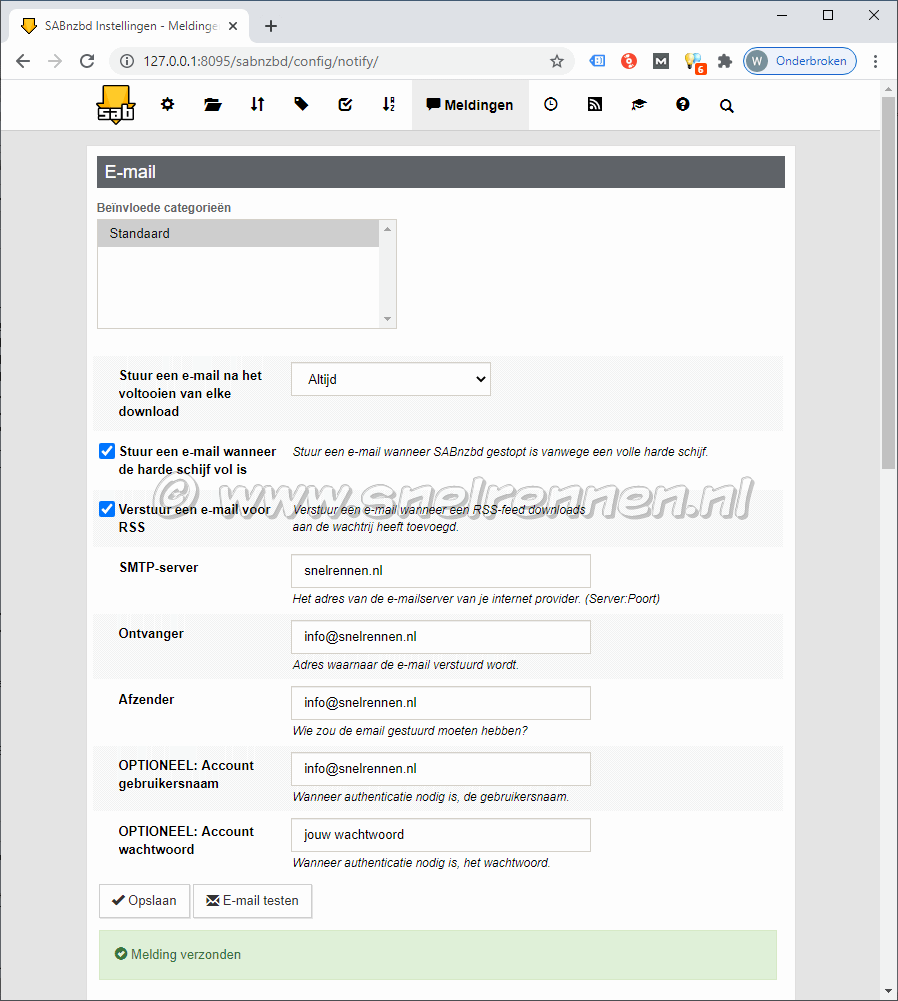 Dan eerst het tabblad "Meldingen". Als jij nu zoiets hebt van dat heb ik allemaal niet nodig en die meldingen en taken is allemaal onzin sla je deze pagina van de handleiding lekker over. Deze zaken hebben niets te maken met het downloaden van SABnzbd, het zijn gewoon extra opties die het programma biedt. En het is een handige functie als je SABnzbd op je NAS hebt draaien en met Lidarr of Sonarr downloads automatisch laat toevoegen. Blijf je op de hoogte!
| | |
| --- | --- |
| Stuur een email na een download | Je kunt kiezen uit nooit, altijd of alleen bij fouten. |
| Stuur een email als de harde schijf vol is | Krijg een email melding als SABnzbd gestopt is met downloaden omdat de harde schijf vol is. |
| Stuur een e-mail voor RSS | Deze optie verstuurt een email als een RSS feed een download aan de wachtrij toevoegt |
| SMTP-server | De mailserver die je gebruikt (bijv. Smtp.my-isp.com). Voor een gmail account gebruik je smtp.gmail.com:587 |
| Ontvanger | Het e-mailadres waarnaar de e-mails moeten worden verzonden. |
| Afzender | Het e-mailadres van de afzender. Dit mag een vals adres zijn maar beter is het om je eigen email adres te gebruiken |
| Account gebruikersnaam | Gebruikersnaam van het e-mailaccount welke gebruikt wordt om de e-mails te verzenden. |
| Account wachtwoord | Wachtwoord van het e-mailaccount welke gebruikt wordt om de e-mails te verzenden. |
Met de "E-mail testen" knop kun je testen of de mail instellingen correct zijn, je ontvangt dan een e-mail van SABnzbd
Als je op dezelfde pagina omlaag scrolt zie je dat je ook Windows meldingen in kunt stellen. Dat laten we, net als de overige manieren om meldingen te ontvangen buiten beschouwing in deze handleiding. Niet vergeten om de wijzigingen weer op te slaan en dan door naar het tabblad "Taakplanner".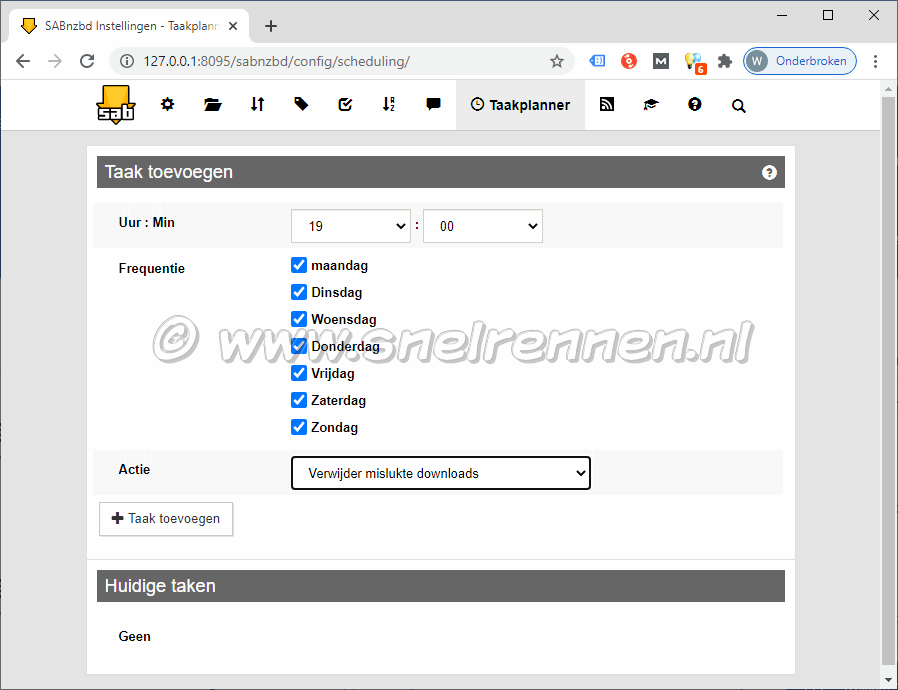 Omdat het fijn is om overzicht te houden en je met mislukte downloads toch helemaal niets kunt is het wel zo makkelijk om deze automatisch te laten verwijderen. Wij kiezen er in dit voorbeeld voor om dit dagelijks te doen. Kijk de taken eens door of er ook voor jouw één bij is die het wat van je over kan nemen en het download leven iets makkelijker maakt. Alle instellingen zijn nu gedaan, tijd om een NZB bestand te downloaden met SABnzbd.
Comments
No comments yet. Be the first!
Menu SABnzbd
Er zijn 22 bezoekers online