Simple Port Forwarding handleiding
Simple Port Forwarding downloaden en installeren
Er zijn natuurlijk redenen genoeg om een poort open te zetten en die gaan we hier ook niet behandelen. In deze tutorial laten we je alleen zien hoe je met behulp van het gratis programma Simple Port Forwarding een poort opent voor een bijvoorbeeld een bittorrent cliënt programma of voor welk ander programma dan ook dat met de buitenwereld wil communiceren.
Het maken van een statisch IP adres komt met hetzelfde programma als eerste aan de orde. Hier staat beschreven hoe je in Windows 7 een statisch IP adres kunt maken. Dit programma werkt onder alle Windows versies, dit zal voor niemand meer een probleem opleveren.
Ook laten we je zien hoe je jouw router kunt laten opnemen in de database als die daar nog niet in voor komt en dat doen we met het programma Router Screen Capture van dezelfde maker. Op dit moment zitten er meer dan 2918 in de database. Dus mocht de jouwe er nu nog niet bij zitten kun je dat zelf aanvragen, het kost je 10 minuten van je tijd en wat geduld zodat de maker het kan toevoegen.
Natuurlijk kun je de laatste versie van Simple Port Forwarding downloaden van onze download pagina's.

Vervolgens installeren we eerst Simple Port Forwarding. Start de installatie door op het gedownloade simple_port_forwarding_v3.8.2_setup.exe bestand te dubbelklikken.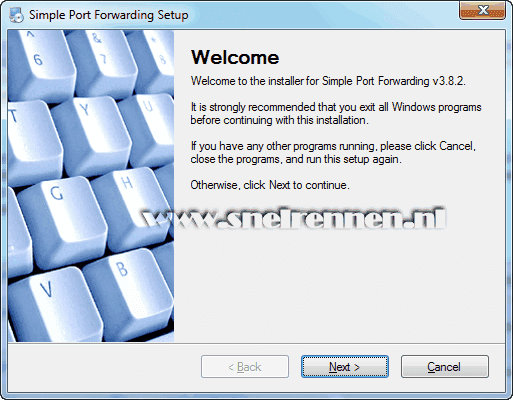 Druk op de next knop om de installatie te starten.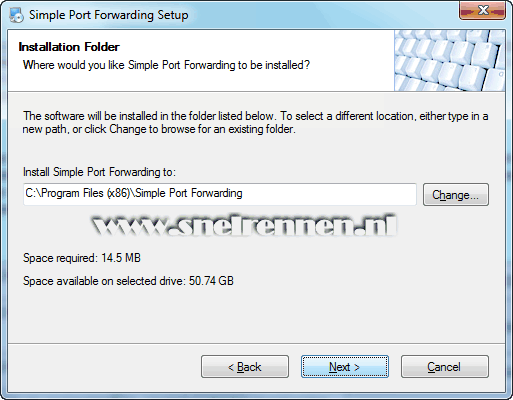 Hier geven we de schijf en eventueel de map op waarin we Simple Port Forwarding geïnstalleerd willen hebben. Standaard is C:\Program Files. Selecteer een map of schijf waarop of in jij het programma geïnstalleerd wilt hebben, dan even op de next knop drukken.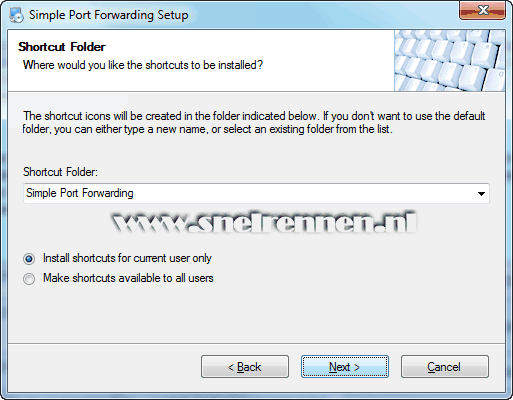 Als meerdere gebruikers op de pc werken willen we niet dat deze ook met Simple Port Forwarding aan de gang kunnen gaan dus we selecteren install shortcuts for current user only. Verder met de next knop.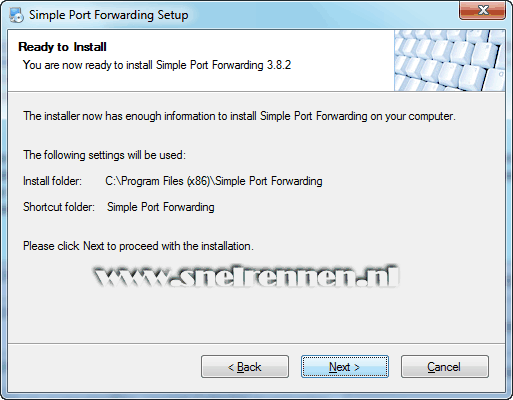 Nog even controleren of je de juiste schijf en map hebt opgegeven. Als dat zo is druk je op de next knop en het programma wordt geïnstalleerd.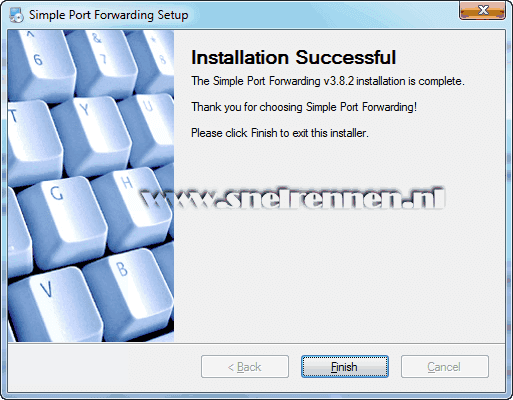 En klaar ben je, Simple Port Forwarding is geïnstalleerd.
De volgende stap is Simple Port Forwarding Nederlandstalig te maken, de database bij te werken en je router te selecteren plus de juiste gebruikersnamen en wachtwoorden voor je router in te geven kortom, we gaan Simple Port Forwarding configureren.
Comments
No comments yet. Be the first!
Menu Simple Port Forwarding
Er zijn 48 bezoekers online