Handleiding Synology als automatische NZB downloader
De benodigde applicaties installeren met het Package Center
De laatste stap voor we daadwerkelijk aan de "download" programma's gaan beginnen is er voor te zorgen dat deze geïnstalleerd kunnen worden en dat ze functioneren. Daarom gaan we nu een aantal zogenaamde 3rd party applicaties (dus applicaties die niet door Synology ontwikkeld of ondersteund worden) installeren via het Package Center.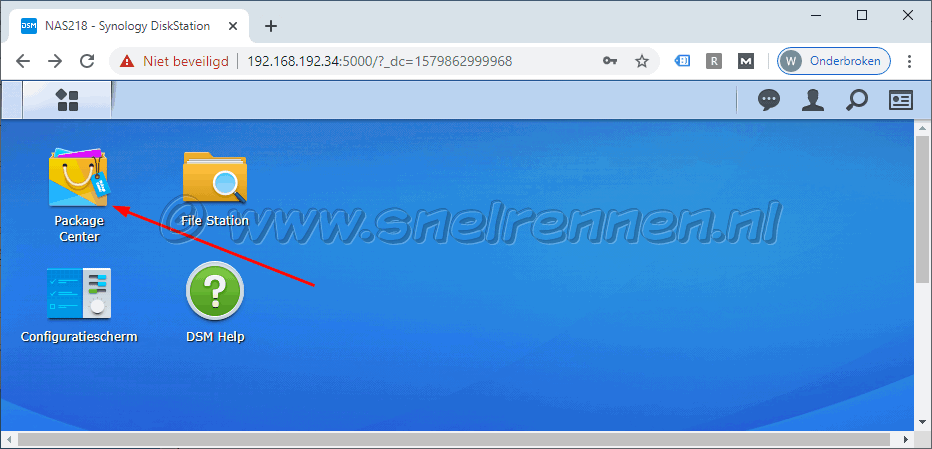 Even dubbelklikken op de package center snelkoppeling zorgt ervoor dat het package center opent.
We gaan direct naar het tabblad "Gemeenschap" in de kolom aan de linkerkant van het scherm. Selecteer deze en je ziet een overzicht van de programma's die daarin aanwezig zijn. Achtereen volgens installeren nu de volgende applicaties: GIT, Pyhton, Chromaprint en Mono. Dan gaan we naar het tabblad "Alle Pakketten" en hier zoeken en installeren we Apache HTTP Server 2.2, Perl, MariaDB 5, PHP 5.6, PHP 7.3 en Web Station.
Let op, tijdens het installeren van MariaDB 5 word gevraagd een wachtwoord in te voeren, als je dit doet heb je dit wachtwoord ook nog om bijvoorbeeld de databae voor Spotweb aan te maken. Goed onthouden dus!
Na het installeren van de packages kijken we even op het tabblad "Geinstalleerd" om te controleren of we niets vergeten zijn of een foutmelding hebben gemist. As het goed is zijn alle benodigde "hulp" programma's nu geïnstalleerd. Dan kunnen we nu het Web Station gaan configureren en de benodigde PHP extensies activeren. Met vragen en opmerkingen kun je altijd in ons forum terecht of je gebruikt het onderstaand formulier!
Comments
No comments yet. Be the first!
Menu Synology NAS
Er zijn 25 bezoekers online