Handleiding Synology als automatische NZB downloader
Webstation en MySQL inschakelen via DSM
Omdat Spotweb gewoon een webbased versie van Spotnet is en Spotnet zijn informatie ook uit een database haalt hebben we voor Spotweb natuurlijk ook een database nodig. Daarom hebben we MariaDB al geinstalleerd en gaan we nu Web Station configureren.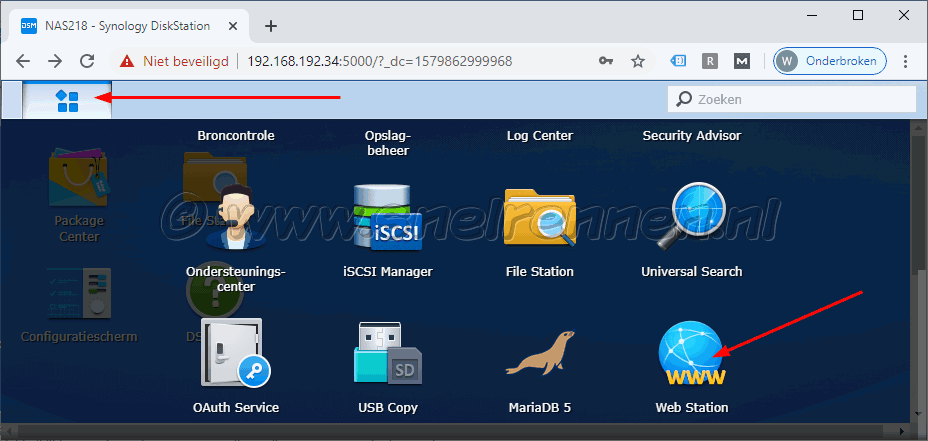 Even dubbelklikken op de Web Station snelkoppeling zorgt ervoor dat we in het instellingen menu van het Web Station komen.
MariaDB is een database pakket en dat is precies wat we nodig hebben om Spotweb te installeren en te laten draaien. MariaDB is een drop-in replacement en volledig compatible met MySQL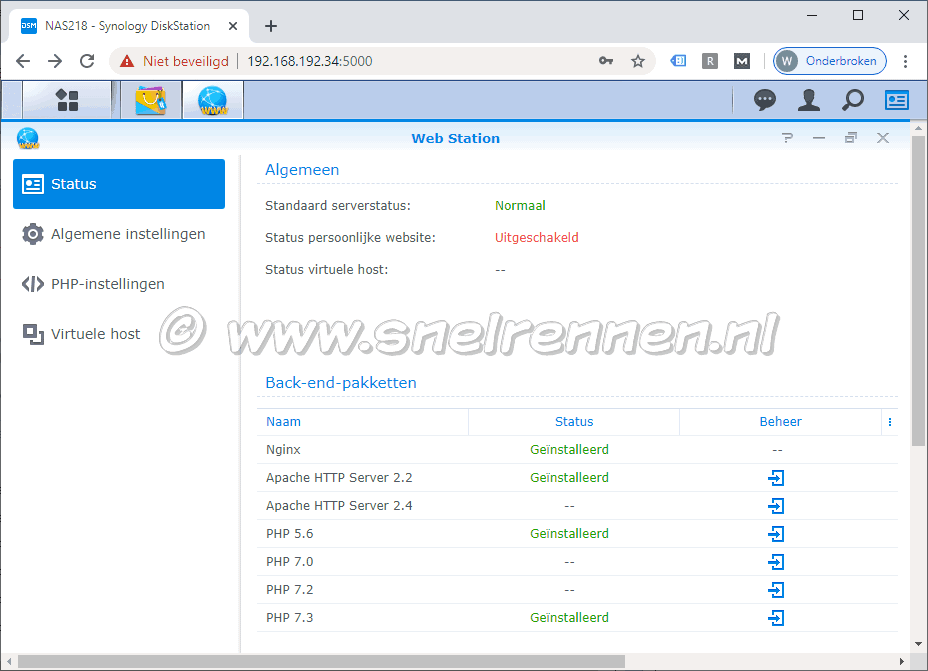 Op het tabblad status zien we onder de back-end pakketten dat zowel Apache http server als PHP 5.6 zijn geinstalleerd. Beide hebben we nodig om de persoonlijke website in te kunnen schakelen. En de laatste versie van Spotweb is nu ook geschikt voor het gebruik onder PHP 7.3..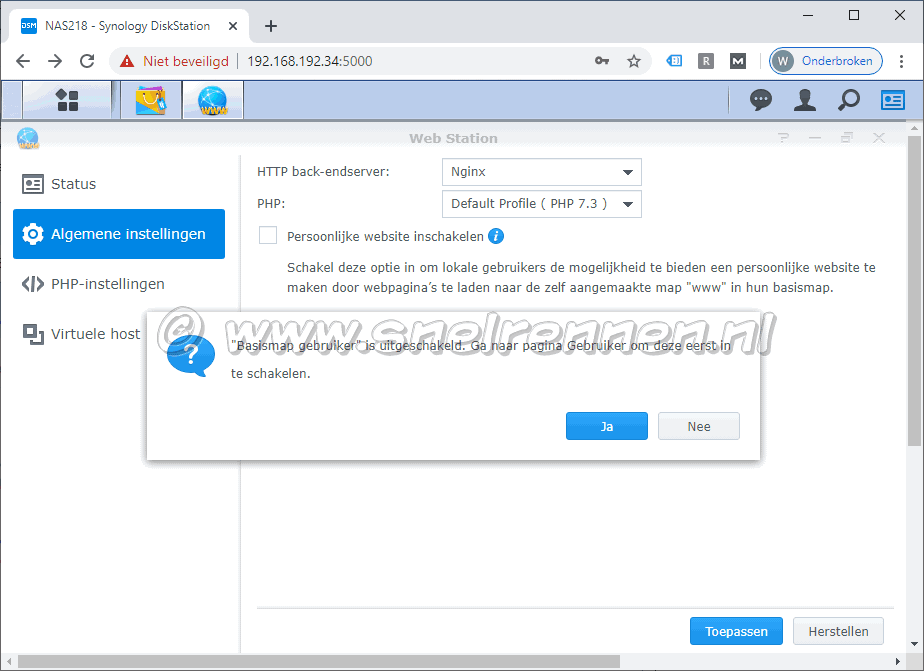 Dan op het tabblad algemene instellingen selecteer je achter HTTP back-endserver Nginx en achter PHP de geïnstalleerde PHP 7.3 versie. Als je dan een vinkje probeert te zetten bij "Persoonlijke website inschakelen" krijg je de pop-up dat de "Basismap gebruiker" nog niet is ingeschakeld. Op de "Ja" knop drukken om deze nu eerst in te schakelen.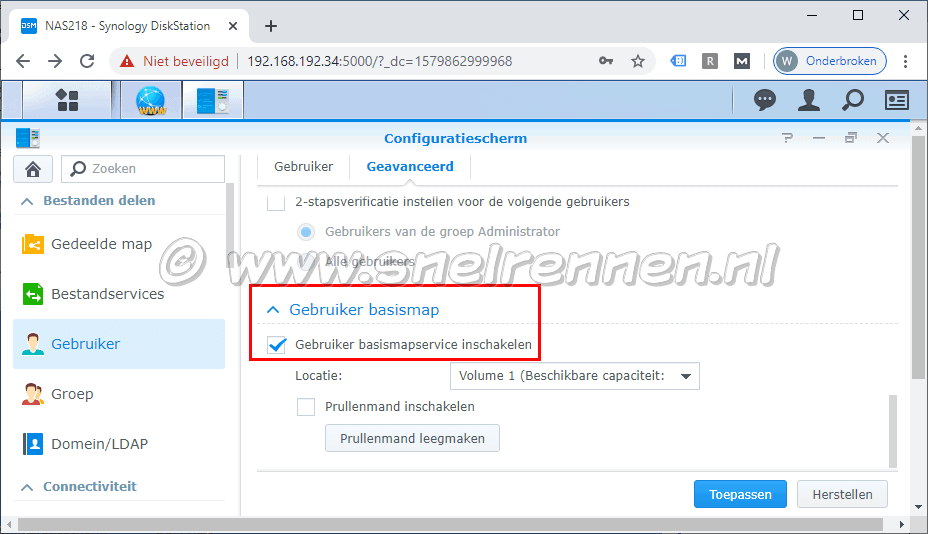 Scrol omlaag op deze pagina en zet een vinkje bij "Gebruiker basismap inschakelen" en bevestig met de "Toepassen" knop.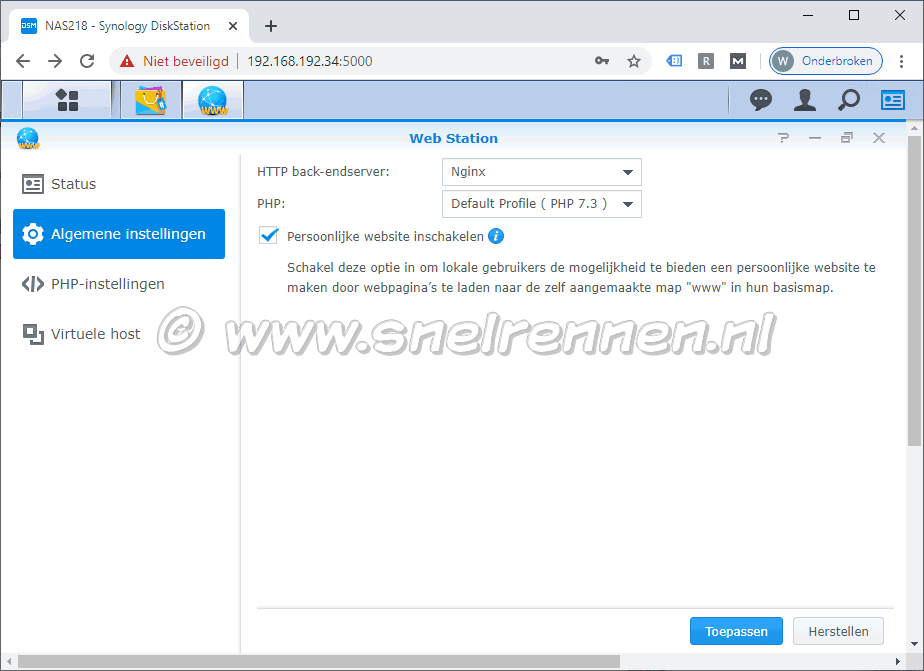 Dan kun je nu een vinkje zetten bij "Persoonlijk website inschakelen" en ook weer bevastigen met de "Toepassen" knop.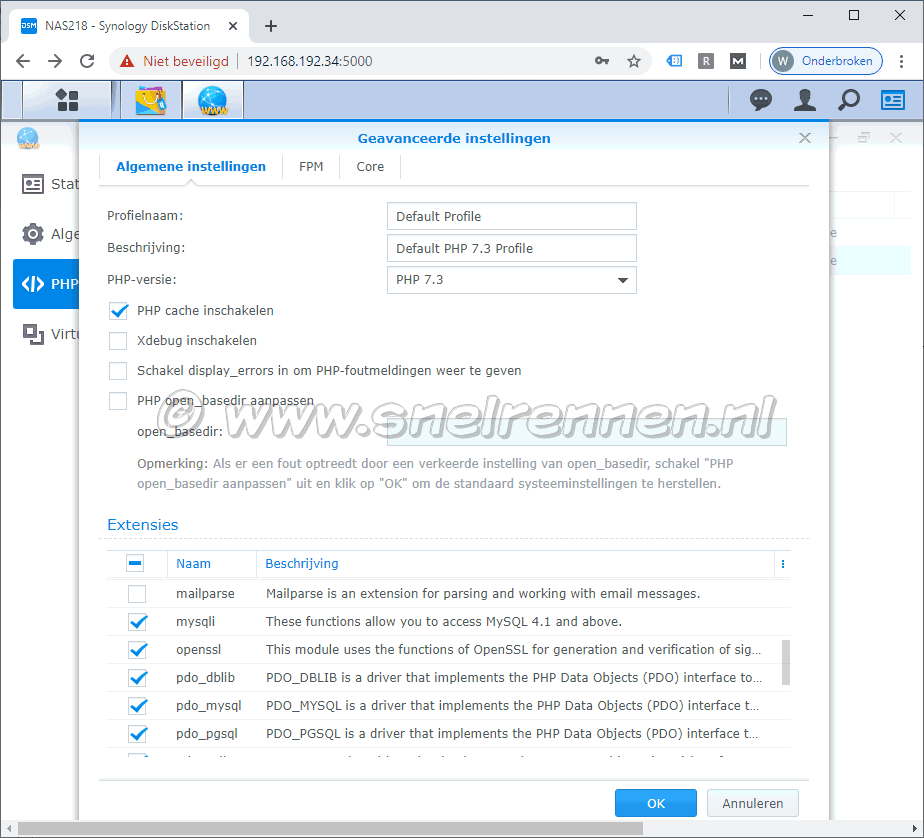 Op het PHP instellingen tabblad controleren we de PHP versie, zetten een vinkje bij PHP cache inschakelen.
Zorg dat onder extensies de volgende zijn aangevinkt: bcmath, curl, gd, gettext, gmp, openssl, pdo_dblib, pdo_mysql, pdo_pgsql, pdo_sqlite en zip aan. Dan even op de "Toepassen" knop drukken.
Daarmee zijn we aan het einde gekomen van het voorbereiden van onze Synology NAS en tevens aan het Synology hoofdstuk van dit stappenplan.
In de volgende hoofstukken worden de installatie en configuratie van respectievelijk Spotweb, NZBGet en meer behandeld~
Veel succes en vooral veel plezier van je NAS gewenst. Met vragen en opmerkingen kun je altijd in ons forum terecht of je gebruikt het onderstaand formulier!
Comments
No comments yet. Be the first!
Menu Synology NAS
Er zijn 30 bezoekers online