Handleiding Synology als automatische NZB downloader
Sub mappen aanmaken met File Station
We hebben de gedeelde mappen aangemaakt en nu gaan we de sub mappen aanmaken voor de programma's die we gaan installeren en de tijdelijke opslag mappen maken. En natuurlijk niet te vergeten de NZB map waar we de niet geautomatiseerde NZB bestanden in op gaan slaan zodat deze ook direct op de juiste plek terecht komt.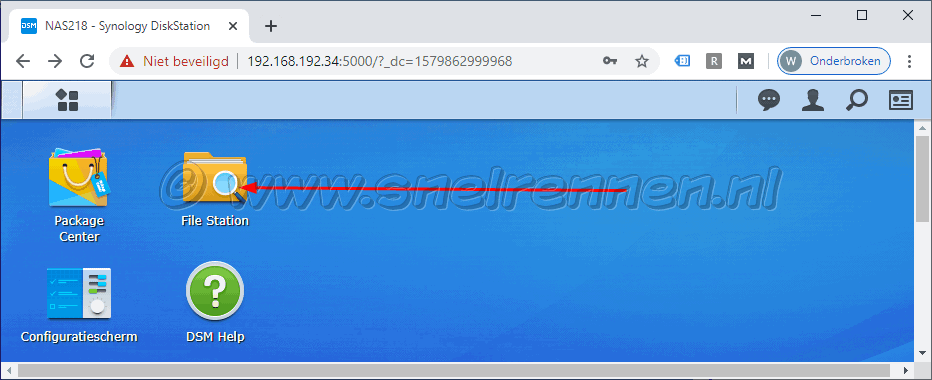 Eerst weer inloggen in DSM en dan even dubbelklikken op de"File station" snelkoppeling.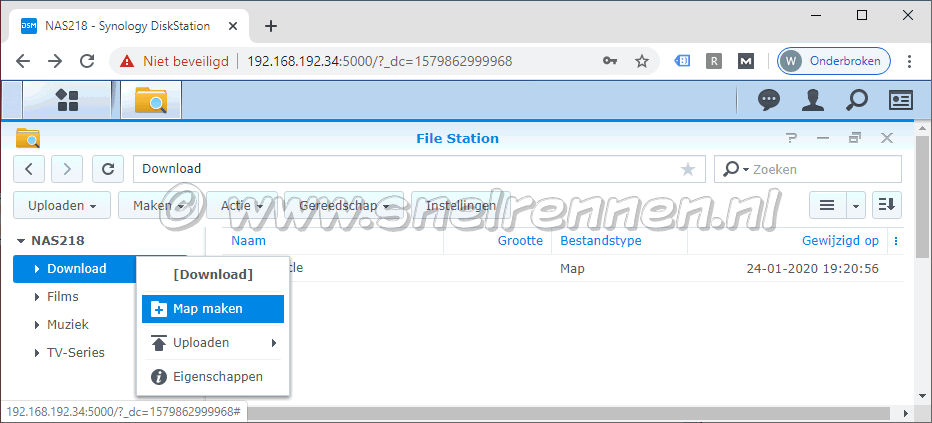 In de gedeelde map Download gaan we een aantal sub mappen aanmaken. Selecteer aan de linkerkant de map download met de muis, druk vervolgens bovenin het venster op de maken knop of gebruik zoals wij doen de rechtermuisknop als je op de map compleet staat en selecteer map maken.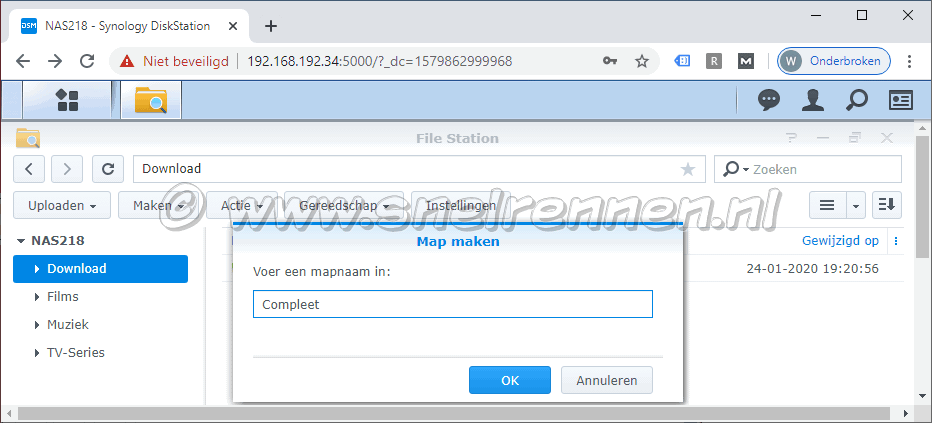 Geef de map een naam en druk op de "OK" knop. Voor deze handleiding hebben we de mappen Compleet en Incompleet nodig. En als we later vanaf onze computer direct een NZB bestand naar onze NAS willen sturen maken we nu direct de mappen NZB, Temp en Queue aan.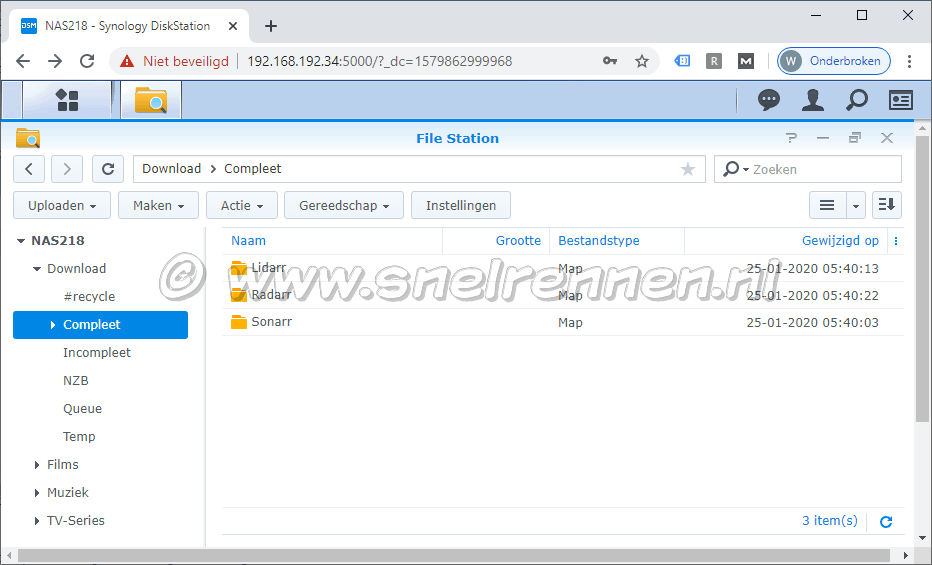 Dan selecteren we de nieuwe map compleet en maken daarin op dezelfde manier als eerder beschreven de mappen Lidarr, Radarr en Sonarr.
Belangrijk om te onthouden is het exacte pad van de mappen en sub mappen, die heb je verderop in de overige handleidingen ook nodig om de verschillende programma's in te stellen.
| Mapnaam | Pad |
| --- | --- |
| Download | /volume1/Download/ |
| Compleet | /volume1/Download/Compleet |
| Incompleet | /volume1/Download/Incompleet |
| NZB | /volume1/Download/NZB |
| Temp | /volume1/Download/Temp |
| Queue | /volume1/Download/Queue |
| Films | /volume1/Films |
| Muziek | /volume1/Muziek |
| TV-Series | /volume1/TV-Series |
| Lidarr | /volume1/Download/Compleet/Lidarr |
| Radarr | /volume1/Download/Compleet/Radarr |
| Sonarr | /volume1/Download/Compleet/Sonarr |
Zo zien de paden naar de mappen er in ons geval dus uit. Als je andere benamingen hebt gebruikt komen die natuurlijk in de paden terug. Let hierbij goed op spelfouten, hoofdletters e.d. Een foutje is zo gemaakt en is meestal ook net het probleem waarom je een programma niet goed aan de gang krijgt.
Dan hebben we alle voorbereidingen nu gedaan en de volgende stap is het toevoegen van de benodigde pakketbronnen aan het Package Center.
Met vragen en opmerkingen kun je altijd in ons forum terecht of je gebruikt het onderstaand formulier!
Comments
No comments yet. Be the first!
Menu Synology NAS
Er zijn 31 bezoekers online